Oleg Banyra, Oleg Nikitin, Iryna Ventskivska
Published on-line:
Aug 22, 2019
Aguilera Alfredo, Juan Gómez Rivas, Luis M. Quintana Franco, Diego Carrion Monsalve, Luis Martínez-Piñeiro
Published on-line:
Aug 20, 2019
Franco Gaboardi, Salvatore Smelzo, Guglielmo Mantica, Davide De Marchi, Giovanni Passaretti, Giovannalberto Pini, Giuseppe Saitta, Nazareno Suardi
Published on-line:
Aug 19, 2019
Murad Asali, Alexander Tsivian
Published on-line:
Aug 05, 2019
Diego M Carrion, Ramon Cansino, Juan Gómez Rivas, Cristina Ballesteros Ruiz, Luis Miguel Quintana Franco, Juan A Mainez Rodríguez, José R Pérez-Carral, Luis Martínez-Piñeiro
Published on-line:
Jul 29, 2019
Ireneusz Ostrowski, Tomasz Golabek, Janusz Ciechan, Emil Śledź, Mikolaj Przydacz, Wojciech Dyś, Mariusz Blewniewski, Burkhard von Heyden, Tobias Pottek, Frank Neugart, Giuseppe Carrieri, Oscar Selvaggio, Francesco Iori, Manuel Fernandez Arjona, Steve Foley, Bob Yang, Christophe Llorens, Waldemar Różański, Piotr L. Chłosta
Published on-line:
Jul 12, 2019
Hüsetin Tugrul Celik, Mehmet Bilen, Fatmanur Kazancı, Mehmet Erol Yildirim, İlkay Bekir İncebay, Hüsamettin Erdamar
Published on-line:
Jul 08, 2019
Vasilii Nikolaevich Dubrovin
Published on-line:
Apr 23, 2019
Attention!
A new system has been introduced for submitting new articles starting from 11 July.
In cases of articles submitted to the previous system and requiring further corrections after review, the corrected versions should be sent to augustyn@ptu.net.pl.
We apologize for the inconvenience.
Dear Colleagues!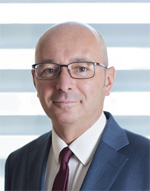 During the 48th Annual Scientific Congress of the Polish Urological Association (PUA), a general meeting of the PUA members was held and the Executive Board was appointed for a further, this time 4-year long cadency for 2018-2022.
The Editor-in-Chief of the Central European Journal of Urology (CEJU) is a role closely tied to and appointed by the PUA Executive Board. The Board has maintained their decision to appoint me as the Editor-in-Chief of CEJU.
I will do my best to fulfill my duties to the best of my abilities as long as the Executive Board of our association will allow me.
Finally, I hope that I can continue to count on the goodwill and support of everyone concerned with the prosperity and development of our journal.
With friendly greetings,
Tomasz Drewa
Central European Journal of Urology (CEJU) is indexed in: PubMed, Emerging Sources Citation Index (Thompson Reuters), Chemical Abstracts CAS, Cambridge Scientific Abstracts (ProQuest), CAB Abstracts, CrossRef, EBSCO, Google Scholar, Index Copernicus (129.18 pts), Global Health Databases, SCOPUS and the Polish Medical Library (GBL), Ministry of Science and Higher Education Index (MNiSW – 14 pts)
eISSN:
2080-4873
ISSN:
2080-4806

Publisher and funding institution
Polish Urological Association