Mikhail Enikeev, Jeffrey Gahan, Ofer Yossepowitch, Leonid Rapoport, Vagarshak Grigoryan, Abdusalam Abdusalamov, Mikhail Lobanov, Leonid Chuvalov, Mark Taratkin, Stanislav Ali, Margarita Gaas, Dmitry Enikeev, Petr Glybochko
Published on-line:
Dec 06, 2019
Hideto Iwamoto, Shuichi Morizane, Katsuya Hikita, Masashi Honda, Atsushi Takenaka
Published on-line:
Dec 06, 2019
Chi Hang Yee, David K.W. Leung, Peter K.F. Chiu, Mandy H.M. Tam, Samson Y.S. Chan, Jeremy Y.C. Teoh, Chi-Kwok Chan, Joseph H.M. Wong, Chi-Fai Ng, Simon S.M. Hou
Published on-line:
Dec 02, 2019
Maris Jakubovskis, Una Kojalo, Baiba Steinbrekera, Janis Auzinš, Dmitrijus Kirilovas, Vilnis Lietuvietis
Published on-line:
Nov 28, 2019
W. Robert Addington, Robert E.Stephens, Stuart P. Miller
Published on-line:
Nov 25, 2019
Bastiaan Prive, Michael Kortleve, Jean-Paul van Basten
Published on-line:
Nov 14, 2019
Amelia Pietropaolo, Ewa Bres-Niewada, Andreas Skolarikos, Evangelos Liatsikos, Panagiotis Kalidonis, Omar Aboumarzouk, Thomas Tailly, Silvia Proietti, Olivier Traxer, Guido Giusti, Nick Rukin, Mehmet Özsoy, Michele Talso, Tarik Emre Sener, Esteban Emiliani, Gokhan Atis, Bhaskar K. Somani
Published on-line:
Oct 14, 2019
Thomas Reeves, Stephen Griffin, Amelia Pietropaolo, Bhaskar K. Somani
Published on-line:
Sep 26, 2019
Alexander Rolevich, Alexander Minich, Alexander Zhegalik, Andrey Mokhort, Tatiana Nabebina, Sergey Krasny, Sergey Polyakov, Oleg Sukonko
Published on-line:
Sep 26, 2019
Attention!
A new system has been introduced for submitting new articles starting from 11 July.
In cases of articles submitted to the previous system and requiring further corrections after review, the corrected versions should be sent to augustyn@ptu.net.pl.
We apologize for the inconvenience.
Dear Authors, Reviewers and Editors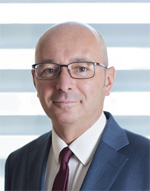 The new editorial panel is working and we must slowly get used to the principles of its functioning.
The editorial panel, based on the ScholarOne platform, is clear and user-friendly, but we are aware that with any new solutions temporary difficulties may occur.

Dr. Bartek Dybowski and I are ready to help with any problems related to the functioning of the panel based on the ScholarOne platform. We will solve all emerging problems so that the Central European Journal of Urology is even closer to you, Dear Readers.
The Editorial Board is waiting for your comments, suggestions and, above all, commitment and help in building a good scientific journal.
Tomasz Drewa
Editor-in-Chief
Central European Journal of Urology (CEJU) is indexed in: PubMed, Emerging Sources Citation Index (Thompson Reuters), Chemical Abstracts CAS, Cambridge Scientific Abstracts (ProQuest), CAB Abstracts, CrossRef, EBSCO, Google Scholar, Index Copernicus (133.85 pts), Global Health Databases, SCOPUS and the Polish Medical Library (GBL), Ministry of Science and Higher Education Index (MNiSW – 14 pts)
eISSN:
2080-4873
ISSN:
2080-4806

Publisher and funding institution
Polish Urological Association