Ahead of print
Review Paper
2018-03-16
10.5173/ceju.2018.1583

Molecular alterations associated with prostate cancer

Herney Andres Garcia Perdomo, James A. Zapata-Copete, Adalberto Sanchez

The information and knowledge about pathways and genetic alterations regarding prostate cancer, including the tools available for its study have been increased nowadays. Additionally, a variety of molecular signaling pathways control cell proliferation nonetheless, this uncompletely understood process is disturbed in cancer cells.

FULL TEXT
Original Basic Research And Clinical Articles
2018-02-21
10.5173/ceju.2017.1622

Diagnostic agreement of 3 incontinence questionnaire to video-urodynamics findings in women with urinary incontinence

Muhammad Jamal Khan, Mohammad Ali Omar, Marc Laniado

There are limited studies evaluating 3 Incontinence Questionnaire (3IQ) against urodynamics based diagnosis as reference standard. 3IQ has been proposed to be useful to evaluate women in primary care. The aim of this study was to determine correlation between 3IQ and video-urodynamics (VUDS) in diagnosing type of urinary incontinence.

FULL TEXT
Original Basic Research And Clinical Articles
2018-02-15
10.5173/ceju.2018.1628

Robot assisted radical cystectomy - first Polish clinical outcomes

Przemysław Adamczyk, Kajetan Juszczak, Pawel Poblocki, Witold Mikolajczak, Tomasz Drewa

Urothelial cell carcinoma is most common neoplasm of genito-urinary tract, in advanced
stage treated with radical cystectomy with pelvic lymphadenectomy. It can be performed by open, or minimally invasive approach (laparoscopic and moreover robot assisted radical cystectomy).

FULL TEXT
Original Basic Research And Clinical Articles
2018-02-12
10.5173/ceju.2018.1587

Can anastomotic urinary leakage in robotic prostatectomy be considered as a marker of surgical skill?

Fabrizio Dal Moro, Paolo Beltrami, Filiberto Zattoni

To test whether the anastomotic urinary leakage (AUL) rate in Robot-Assisted Radical Prostatectomy (RARP) can be considered as a marker of surgical skill.

FULL TEXT
Letter to the Editor
2018-01-29
10.5173/ceju.2018.1662

Dermatologist and urologist? A neglected relationship in neurogenic voiding dysfunctions

Mikolaj Przydacz, Tomasz Golabek, Piotr L. Chłosta

FULL TEXT
Original Basic Research And Clinical Articles
2018-01-29
10.5173/ceju.2017.1513

Predicting long-term renal damage in children with VUR under conservative initial management: 205 cases in a tertiary referral center

Natalia Alvarez, Reyes Delgado Alvira, Yurema Gonzalez Ruiz, Rafael Fernandez Atuan, Alexander Siles Hinojosa, Miguel Angel Rihuete Heras, Marisa Justa Roldan, Jesus Gracia Romero

Vesicoureteral reflux(VUR)is one of the most common ailments in children. Evidence-based-guidelines recommend conservative treatment in children with VUR, following endoscopic surgery in those with breakthrough febrile UTIs. Despite this fact, the management of VUR is still controversial. Our objective is to evaluate the conservative strategy in children with primary VUR in terms of renal function and scarring, and identify factors associated with poor prognosis in those children.

FULL TEXT
Original Basic Research And Clinical Articles
2018-01-22
10.5173/ceju.2017.1517

Is magnetic resonance imaging helpful in detecting significant prostate cancer in patients with haematospermia, normal PSA and DRE. A single institution, observational, and retrospective study in a United Kingdom hospital

Rafał Turo, Seth Horsu, Andra Calinciuc, Michal Smolski, Helene Thygesen, Gerard Doyle, Dev Mohan Gulur, Sanjay Das, Bo Pettersson, Ninaad Awsare

Haematospermia is an uncommon clinical condition that may be associated with prostate cancer. The optimal investigation of haematospermia is unknown. The aim of this study was to investigate haematospermia as a presenting symptom of significant pathology and to assess the diagnostic value of magnetic resonance imaging (MRI).

FULL TEXT
Original Basic Research And Clinical Articles
2018-01-22
10.5173/ceju.2017.1557

The significance of predictable traumatic area by renorrhaphy in the prediction of postoperative ipsilateral renal function

Toshihiko Masago, Noriya Yamaguchi, Hideto Iwamoto, Shuichi Morizane, Katsuya Hikita, Masashi Honda, Takehiro Sejima, Atsushi Takenaka

To determine the relationship between the actual renal function loss and volume loss in robot-assisted partial nephrectomy (RAPN) using a novel three-dimensional volume analyzer.

FULL TEXT
Original Basic Research And Clinical Articles
2018-01-22
10.5173/ceju.2017.1530

The role of Acute Cystitis Symptom Score questionnaire for research and antimicrobial stewardship. Validation of the Hungarian version

András Magyar, Jakhongir Alidjanov, Adrian Pilatz, Károly Nagy, Vinodh Kumar Adithyaa Arthanareeswaran, Sándor Póth, András Bécsi, Florian M.E. Wagenlehner, Kurt G. Naber, Péter Tenke, Béla Köves

The Acute Cystitis Symptom Score (ACSS) is a new self-reporting tool to evaluate the symptoms of uncomplicated acute cystitis (AC) in women. The linguistic and clinical validation process of the Hungarian version used in this study may serve as a guide for the validation of the ACSS in other languages.

FULL TEXT
Original Basic Research And Clinical Articles
2018-01-19
10.5173/ceju.2018.1539

The prevalence of qnr genes of A, B, S in Escherichia coli strains isolated from three major hospitals in Tehran, Iran

Hadis Abbasi, Reza Ranjbar

Escherichia coli (E.coli) as an opportunistic pathogen is the major cause of the hospital infections. The main goal of this research was to determine the frequency of quinolone resistance genes (qnrs) among E.coli pathotypes isolated from patients with urinary tract infections (UTIs).

FULL TEXT
Original Basic Research And Clinical Articles
2018-01-16
10.5173/ceju.2017.1427

Diffusion weighted magnetic resonance imaging in bladder cancer, is it time to replace biopsy?

Rima S. Al Johi, Gehan S. Seifeldein, Ahmed M. Moeen, Noha A. Aboulhagag, Ehab M. Moussa, Diaa A. Hameed, Hisham M. Imam

To assess if the apparent diffusion coefficient (ADC) value of magnetic resonance imaging (MRI) can discriminate between the cell type, histologic grade and improve staging of urinary bladder cancer.

FULL TEXT
Original Basic Research And Clinical Articles
2018-01-16
10.5173/ceju.2018.1574

Efficacy of Sertraline and Gabapentin in the Treatment of Urethral Pain Syndrome: Retrospective Results of Single Institutional Cohort

Ozer Ural Cakici, Nurullah Hamidi, Emre Ürer, Emrah Okulu, Onder Kayigil

Urethral pain syndrome is a subgroup of chronic pelvic pain syndromes and comprises a relatively challenging patient group in urology practice. Several different treatments have been used for the management of the condition from a mostly empirical basis. In this letter, we present the results of a small cohort of young male patients treated with sertraline and gabapentin therapy.

FULL TEXT
Original Basic Research And Clinical Articles
2018-01-09
10.5173/ceju.2017.1263

Association between detrusor muscle function and level of the spinal cord injury

Maryam Kooshesh, Mahdi Safdarian, Abolghasem Nikfallah, Alexander R. Vaccaro, Vafa Rahimimovaghar

Traumatic spinal cord injury (TSCI) is among the most severe disabilities with an estimation of 2.5 million people affected worldwide. The purpose of this study was to investigate the association between detrusor muscle function and level of the spinal cord injury.

FULL TEXT
Original Basic Research And Clinical Articles
2018-01-08
10.5173/ceju.2017.1381

Comparing use of lidocaine periprostatic nerve block and diclofenac suppository alone for patients undergoing transrectal ultrasound guided prostate biopsy

Aykut Bugra Senturk, Muhammet Yaytokgil, Musa Ekici, Sercan Sari, Emre Demir, Basri Çakiroglu

The objective of this study is to make a comparison between the effectiveness of the diclofenac suppository alone and periprostatic local anaesthesia infiltration alone to reduce the pain during a transrectal ultrasound-guided prostate biopsy procedure

FULL TEXT
Original Basic Research And Clinical Articles
2018-01-01
10.5173/ceju.2017.1581

Effectiveness of tranexamic acid for decreasing bleeding in prostate surgery: a systematic review and meta-analysis

Sergio Hernando Mina, Herney Andres Garcia Perdomo

Objective: To determine the effectiveness of tranexamic acid in decreasing bleeding in patients undergoing prostate surgery

FULL TEXT
Review Paper
2017-12-29
10.5173/ceju.2017.1450

Can the evolution of male contraception lead to a revolution? Review of the current state of knowledge

Mikołaj Frankiewicz, Wojciech Połom, Marcin Matuszewski

Great advances in medical research concerning methods of contraception have been achieved in recent years, however still more than 25% of couples worldwide rely on condoms- a method with poor efficacy. Despite the fact that there is a spectrum of 11 different contraceptive methods for women, there are only 4 commonly used by men (condoms, periodic abstinence, withdrawal and vasectomy). In this review, advances and present state-of-the-art both hormonal and non-hormonal male contraceptive methods will be presented and evaluated

FULL TEXT
Original Basic Research And Clinical Articles
2017-12-22
10.5173/ceju.2017.1611

Oncological and functional efficacy of nephron-sparing surgery versus radical nephrectomy in renal cell carcinoma stages ≥ cT1b: a single institution, matched analysis

Ralf Veys, Firas Abdollah, Alberto Briganti, Maarten Albersen, Hein Van Poppel, Steven Joniau

Objective: To compare oncological outcomes of partial nephrectomy (PN)
versus radical nephrectomy (RN) in renal cell carcinoma (RCC) clinical
stages ≥T1b in a retrospective propensity-score matched cohort of a high
volume tertiary referral center and to compare renal function and
complication rates between groups

FULL TEXT
Original Basic Research And Clinical Articles
2017-12-19
10.5173/ceju.2017.1536

Patient experience after transperineal template prostate biopsy compared to prior transrectal ultrasound guided prostate biopsy

Nikita R. Bhatt, Kieran Breen, Usman M. Haroon, Muhammad Akram, Hugh D. Flood, Subhasis K. Giri

Transperineal template prostate biopsy (TTPB) is reported to have higher cancer detection and lower complication rate compared to transrectal ultrasound guided prostate biopsy (TRUSPB). However there is no report of the same patient's experience with both types of biopsy.
Aim: To compare the patient reported experience in the same cohort of patients who underwent both TRUSPB and TTPB, using validated questionnaires.
 

FULL TEXT
Original Basic Research And Clinical Articles
2017-12-18
10.5173/ceju.2017.1439

Bosniak category III renal lesions: likelihood of malignancy based on computed tomography findings

Neringa Bielskienė, Vytautas Augustinavičius, Dileta Valanciene, Algirdas Edvardas Tamošiūnas, Feliksas Jankevicius

Bosniak introduced a classification of renal cysts based on imaging characteristics. Cystic renal changes are categorised determining their risk of malignancy and further management. However, defining the malignancy of category III lesions still remains a challenge and our aim was to evaluate features of malignancy in computed tomography in this category.

FULL TEXT
Original Basic Research And Clinical Articles
2017-12-08
10.5173/ceju.2017.1353

Repair of Recto-Urethral Fistula with Urethral Augmentation by Buccal mucosal Graft and Gracilis Muscle Flap interposition- Our Experience

Vikram Prabha, Vishal Kadeli

Recto-Urethral Fistula (RUF) is a relatively rare surgical condition, the treatment of which is quite challenging. There are many causes of RUF but 60% of them are iatrogenic following open prostatectomies, radiotherapy, brachytherapy, urethral instrumentation etc. We present a series of six cases treated at our institution.

FULL TEXT
Short Communications (Preliminary Results And Mini-Reviews)
2017-12-07
10.5173/ceju.2017.1597

Mini Review A ligamentous explanation for OAB symptoms as defined by ICS in the female

Peter Petros

The International Continence Society (ICS) committee has defined. . . . . . . . . . . . . . . . . . . . . . . . . . . . . . . . . . . . . . . . . . . . . . . . . . . . . . . . . . . . . . . . . . . . . . . . . . . . . . . . . . . . . . . . . . . . . . . . . . . . . . . . . . . . . . . . . . . . . . . . . . . . . . . . . . . . . . . . . . . . . . . . . . . . . . . . . . . . . . . . . . . . . . . . . . . . . . . . . . . . . . . . . . . . . . . . . . . . . . . . . . . . . . . . . . . . . . . . . . .

FULL TEXT
Original Basic Research And Clinical Articles
2017-12-06
10.5173/ceju.2017.1391

Comparison of cold-knife optical internal urethrotomy and holmium:yag laser internal urethrotomy in bulbar urethral strictures

Mustafa Gurkan Yenice, Kamil Gokhan Seker, Emre Sam, Yunus Colakoglu, Feyzi Arda Atar, Selcuk Sahin, Abdulmuttalip Simsek, Volkan Tugcu

To compare the results of cold-knife optical internal urethrotomy (OIU) and Holmium:YAG laser internal urethrotomy (HIU) in primary bulbar urethral strictures.

FULL TEXT
Review Paper
2017-12-06
10.5173/ceju.2017.1234

Ten years of intraoperative floppy iris syndrome (IFIS) in the era of α-blockers

Andreas LUNACEK, Badereddin Mohamad Al-Ali, Christian Radmayr, Maria Weber, Wolfgang Horninger, Oliver Findl, Eugen Plas

The use of alpha-1 receptor antagonists in the treatment of benign prostatic hyperplasia (BPH) has created a problem in ophthalmic surgery, the so-called intraoperative floppy iris syndrome (IFIS). This consists of a billowing iris, insufficient pupillary dilation with progressive intraoperative miosis, and protrusion of iris tissue through the tunnel and side port incision that are made for access to the anterior chamber during surgery. IFIS presents particular difficulties in cataract surgery which is carried out through the pupil with manipulations in the immediate vicinity of the iris

FULL TEXT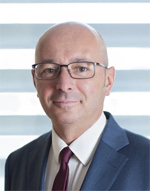 Dear Friends,
I would like to wish you all a very Merry Christmas and Happy New Year 2018! I hope that this holiday season will bring you time to relax and reflect upon the past year.
The medical profession brings many possibilites for new ventures and in a certain way predisposes us to this.
We as doctors have many important roles to fulfill, usually simultaneously, such as those of: therapists, operators, scientists, managers, lecturers, publishers, editors, authors, and association members. The number of our endeavours is undoubtedly larger and continues to impress me.
Please forgive me for a short personal digression. Once, I met the children of a prominent surgeon and scientist, who was committed to his patients and whose achievements I had read about in journals. I asked them what kind of a person he was on a daily basis and what did he pass on to them, the next generation? "Dad? He went to work early in the morning, came home late at night, and on Sundays he needed his rest. We barely knew him".
Therefore, I would like to wish you all of the best and that during this holiday season you are able to spend quality time with your families and those closest to you. In time, everything will pass; our successors and new methods and techniques will arrive. Grateful patients will soon forget, and only we will remain, in the memories of our loved ones.

Kindest regards,
Tomasz Drewa
Editor-in-Chief,
Central European Journal of Urology