Roberto Iglesias Lopes, Daniel Gabriele Sucupira, Marcos Figueiredo Mello, Ricardo Haidar Berjeaut, Bruno Nicolino Cezarino, Francisco Tibor Dénes
Published on-line:
Oct 15, 2020
Michael Samarinas, Konstantinos Skriapas, Iraklis Mitsogiannis, Stavros Gravas, Anastasios Karatzas, Vasileios Tzortzis
Published on-line:
Oct 10, 2020
Krzysztof Balawender, Stanisław Orkisz
Published on-line:
Oct 10, 2020
Mohamed Wishahi, Amr Elkholy, Mohamed H. Badawy
Published on-line:
Oct 03, 2020
Daniel Beder, Sudhanshu Chitale
Published on-line:
Sep 26, 2020
Giovanni Saredi, Andrea Pacchetti, Federico Dotta, Filippo Annino, Paolo Capogrosso, Federico Deho, Giacomo Maria Pirola
Published on-line:
Sep 25, 2020
Piotr Kania, Maciej Salagierski, Rafał Mieleszko, Marcin Kuligowski, Karol Dudka, Monika Kuca, Jakub Biedrzycki, Bartosz Zwolan, Tomasz Drabio, Tadeusz Dmowski
Published on-line:
Sep 25, 2020
Attention!
A new system has been introduced for submitting new articles starting from 11 July 2019.
In cases of articles submitted to the previous system and requiring further corrections after review, the corrected versions should be sent to augustyn@ptu.net.pl.
We apologize for the inconvenience.
Dear Readers,
Dear Authors,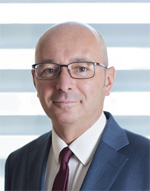 The pandemic, associated with the spread of the SARS-Cov-2 virus, has caused profound structural changes in many sectors of science and education. It caused the necessity of changes in the functioning of many teams, including our Editorial Team. The period in which we had to work also influenced the perception of publishing activities related to the publication of the Central European Journal of Urology.
The changes that have been made in previous years mean that the work of the Editorial Team can be done completely remotely and electronically. However, there remains the manner of publishing the Central European Journal of Urology, which includes both print and electronic versions. In the face of the SARS-Cov-2 pandemic, and similar threats that may occur in the future, it seems reasonable to stop printing the paper version of the Central European Journal of Urology.
I am asking for the opinions of our Readers and Authors, as well as the supporters of the journal. It will be easier for me to make arguments "for" or "against" this change if I receive your support. I am the person responsible for the smooth functioning of the journal and I would like its image to depend on the opinions of our dear readers and authors.
With deepest respect,
Tomasz Drewa
Central European Journal of Urology (CEJU) is indexed in: PubMed, Emerging Sources Citation Index (Thompson Reuters), Chemical Abstracts CAS, Cambridge Scientific Abstracts (ProQuest), CAB Abstracts, CrossRef, EBSCO, Google Scholar, Index Copernicus (133.85 pts), Global Health Databases, SCOPUS and the Polish Medical Library (GBL), Ministry of Science and Higher Education Index (MNiSW – 70 pts)
eISSN:
2080-4873
ISSN:
2080-4806

Publisher and funding institution
Polish Urological Association