Ahead of print
Letter to the Editor
2017-11-17
10.5173/ceju.2017.1593

Letter to the Editor

Elvira Bratila

FULL TEXT
Author's Reply
2017-11-16
10.5173/ceju.2017.1602

Reply

Paweł Miotła

FULL TEXT
Letter to the Editor
2017-11-16
10.5173/ceju.2017.1586

Petros P. Letter do the Editor. [Miotła P, Dobruch J, Lipiński M, et al. Diagnostic and therapeutic recommendations for patients with nocturia. Cent European J Urol. 2017; doi: 10.5173/ceju.2017.1563].

Peter Petros

FULL TEXT
Original Basic Research And Clinical Articles
2017-11-07
10.5173/ceju.2017.1533

A ureteral stent crossing the bladder midline leads to worse urinary symptoms

Makoto Taguchi, Kenji Yoshida, Motohiko Sugi, Tadashi Matsuda, Hidefumi Kinoshita

To investigate the correlation between the position of a ureteral stent and stent-related symptoms, excluding the influence of ureteroscopic maneuvers.

FULL TEXT
Original Basic Research And Clinical Articles
2017-11-07
10.5173/ceju.2017.1549

Successful ureteroscopy for kidney stone disease leads to resolution of urinary tract infections: Prospective outcomes with a 12-month follow-up

Rachel Oliver, Anngona Ghosh, Robert Geraghty, Sacha Moore, Bhaskar K. Somani

To investigate the resolution of Urinary Tract Infection (UTI) with successful treatment of Kidney Stone Disease (KSD).
We review the outcomes of ureteroscopy (URS) and stone treatment for patients with positive urine culture or recurrent UTIs and evaluate whether the infection resolved with clearance of their urinary stones.

FULL TEXT
Letter to the Editor
2017-11-06
10.5173/ceju.2017.1594

Liedl B, Inoue H, Sekigichi Y, et al. Is overactive bladder in the female surgically curable by ligamentrepair? Cent European J Urol. 2017; 70: 53-59

Reut Rotem, Adi Y. Weintraub

FULL TEXT
Letter to the Editor
2017-11-06
10.5173/ceju.2017.1592

Liedl B, Inoue H, Sekigichi Y, et al. Is overactive bladder in the female surgically curable by ligamentrepair? Cent European J Urol. 2017; 70: 53-59

Peter Petros

FULL TEXT
Author's Reply
2017-11-03
10.5173/ceju.2017.1595

1. Ahmet Akin Sivaslioglu Sivaslioglu AA. Letter to the Editor. Cent European J Urol. 2017; doi: 10.5173/ceju.2017.1590 [Epub ahead of print] 2. Peter Petros Petros P. Letter to the Editor. Cent European J Urol. 2017; doi: 10.5173/ceju.2017.1592 [Ahead of print] 3. Reut Rotem, Adi Y. Weintraub Rotem R, Weintraub AY. Letter to the Editor. Cent European J Urol. 2017; doi: 10.5173/ceju.2017.1594 [Epub ahead of print]

Bernhard Liedl

FULL TEXT
Letter to the Editor
2017-11-03
10.5173/ceju.2017.1590

Liedl B, Inoue H, Sekigichi Y, et al. Is overactive bladder in the female surgically curable by ligamentrepair? Cent European J Urol. 2017; 70: 53-59

Ahmet Akin Sivaslioglu

FULL TEXT
Original Basic Research And Clinical Articles
2017-10-20
10.5173/ceju.2017.1561

The impact of the 2005 International Society of Urological Pathology Gleason grading consensus on active surveillance for prostate cancer

Venkat M. Ramakrishnan, Karolin Bossert, Gad Singer, Kurt Lehmann, Lukas J. Hefermehl

Current treatment plans for localized PC are based on core needle biopsies (CNB) classified using the Gleason score (GS). Recently, many institutions have started using the latest version of International Society of Urological Pathology (ISUP) guideline revision from 2014 for grading prostate carcinoma (PC). Interestingly, this adoption is occurring without first understanding whether the 2005 ISUP revisions had a positive clinical impact. CNB-based GS may underestimate tumor aggressiveness and, therefore, critically impact patient eligibility for active surveillance (AS)

FULL TEXT
Original Basic Research And Clinical Articles
2017-10-19
10.5173/ceju.2017.1315

The impact of urinary bladder catheterisation after ureterorenoscopic stone removal on the postoperative course

Emilia Pawłowska-Krajka, Adam Dorobek

The most frequent reason for ureterorenoscopy is the necessity to remove calculi from the ureter and/or kidney. After completing this procedure the Foley catheter is inserted in the bladder. The aim of the study is to show whether catheterization of the bladder after ureterorenoscopic stone removal in patients with low-risk of complications is necessary and indicated.

FULL TEXT
Original Basic Research And Clinical Articles
2017-10-17
10.5173/ceju.2017.1432

The role of hemostatic agents in preventing complications in laparoscopic partial nephrectomy.

Diego M. Carrion, Sergio Alonso y Gregorio, Juan Gómez Rivas, Alfredo Aguilera Bazán, Jesús Díez Sebastián, Luis Martínez-Piñeiro

Nephron-sparing surgery is currently the treatment of choice for renal cell carcinoma stage T1a. During the past years, several hemostatic agents (HA) have been developed in order to reduce surgical complications. We present the results of our series and the impact of the use of HA in the prevention of surgical complications in laparoscopic partial nephrectomies (LPNs).

FULL TEXT
Short Communications (Preliminary Results And Mini-Reviews)
2017-10-17
10.5173/ceju.2017.1397

Subcutaneous pyelovesical bypass – Detour bypass – as a solution for ureteric obstruction

Andrzej Jerzy Wrona, Jarosław Zgajewski, Norbert Kopeć, Dominik Chodor, Paweł Kopcza, Stefan Klekot

Many patients suffer from unilateral or bilateral hydronephroses caused by pelvic tumor, retroperitoneal fibrosis, occlusion due to radiation therapy or iatrogenic damage to the ureter. Nowadays widely use percutaneous nephrostomy or double J stent. Nephrostomy deteriorates patient quality of life and leads to often infections, blockage tube, bleeding, on the other hand uretral stent is associated with septicemia, irritative blader symptoms. Thus useful solution is Detour stent.

FULL TEXT
Original Basic Research And Clinical Articles
2017-10-16
10.5173/ceju.2017.1357

Relationship with immunhistochemical staining extent of CD47 and histopathologic features of bladder tumor

Erkan Olcucuoglu, Mehmet Emin Sirin, Gulden Aydog, Eymen Gazel, Sedat Tastemur, Oner Odabas

It has been shown that CD47 is an important diagnostic and prognostic marker in many cancer types. However, the relationship between CD47 and bladder tumor stage has not been shown in previous studies. To the best of our knowledge, this is the first study investigating the association of CD47 with stages of bladder cancer.

FULL TEXT
Original Basic Research And Clinical Articles
2017-10-10
10.5173/ceju.2017.1575

Life expectancy calculation in urology: Are we equitably treating older patients?

Nikita Bhatt, Niall F. Davis, Kieran Breen, Hugh D. Flood, Subhasis K. Giri

The aim of our study was to determine the contemporary practice in utilisation of LE calculation among urological clinicians.

FULL TEXT
Original Basic Research And Clinical Articles
2017-10-09
10.5173/ceju.2017.1442

What should be done for minimum pain without any sexual function deterioration in the transrectal prostate biopsy ?

Mehmet Giray Sönmez, Betül Kozanhan, Erhan Demirelli, Leyla Öztürk Sönmez, Cengiz Kara

The aim of this study is to find an ideal method for the application of a transrectal ultrasound-guided prostate biopsy(TRUS-Bx) without deteriorating patient comfort.

FULL TEXT
Original Basic Research And Clinical Articles
2017-10-03
10.5173/ceju.2017.1494

A comparative assessment of irrigation and drainage characteristics for commercially available urethral catheters

Mamoun Abdelrahman, Niall F. Davis, Barry P. McMahon, Michael Walsh, Thomas E.D. McDermott, John A. Thornhill, Rustom P. Manecksha

We aim to investigate irrigation and drainage characteristics of commercially available urethral catheters and to determine which catheter offers the best flow characteristics.

FULL TEXT
Videosurgery
2017-09-27
10.5173/ceju.2017.1215

Treatment of bladder lithiasis in a patient with Mitrofanoff conduit using a percutaneous approach

Alberto Perez-Lanzac de Lorca, Patricia Parra Serván, Jesús Rosety Rodriguez, Cristina León Delgado, Jose Luis Álvarez-Ossorio Fernández

The Mitrofanoff continent urinary diversion is commonly used in paediatric patients with neuropathic bladder disorder. Although the continence achieved is up to 80%, some complications may occur as such as stoma strictures or bladder lithiasis. The anatomic features, the lithiasis burden and the preservation of the Mitrofanoff's are among the principal criterias for the selection of the best surgical access for the treatment of the stones in this patients,.. Bibliography.. 1.

VIDEO PUBLICATION
Videosurgery
2017-09-27
10.5173/ceju.2017.1441

Laparo-endocopic stone surgery: advantages of alternative approach

José Vicente Baldissera Aradas, Luis Rodríguez Villamil, Guillermo Cruceyra Betriu, Sergio Fernández-Pello Montes, Iván González Rodríguez, Rodrigo Gil Ugarteburu, Javier Mosquera Madera

Despite the technical development and expanding indications, the new technologies in ESWL, URSC, RIRS and PNL have not been able to complete replace open surgery(OS). In these cases, laparoscopic surgery could be the most suitable option.. Various factors must be considered in order to offer an optimized surgical treatment.. When patient is counseled on the need for multisession surgery, the overall treatment cost and patient's preferences are important factors to decide treatment modality.

VIDEO PUBLICATION
Letter to the Editor
2017-09-26
10.5173/ceju.2017.1558

Can Urologists be permitted to maintain a private Social Media presence in light of the relevant Guidelines and Codes of Conduct, which govern the use of Social Media with regard to these professionals?

Roman Sosnowski, Stefan W. Czarniecki, Artur Lemiński

FULL TEXT
Review Paper
2017-09-25
10.5173/ceju.2017.1563

Diagnostic and therapeutic recommendations for patients with nocturia

Paweł Miotła, Jakub Dobruch, Marek Lipiński, Tomasz Drewa, Anna Kołodziej, Ewa Barcz, Włodzimierz Baranowski, Tomasz Rechberger, Piotr L. Chłosta

Nocturia is defined as the urge to urinate at night when the micturition was directly preceded and followed by sleep. Due to its negative impact on the quality of life of patients, an effective treatment for this disease has become a significant therapeutic challenge. The aim of this article is to explain the main risk factors for the occurrence of nocturia and to present diagnostic and therapeutic schemes in the case of nocturnal polyuria (idiopathic night time polyuria).

FULL TEXT
Original Basic Research And Clinical Articles
2017-09-22
10.5173/ceju.2017.1521

Years of life lost due to bladder cancer among the inhabitants of Poland in the years 2000 to 2014

Mateusz Jobczyk, Małgorzata Pikala, Waldemar Różański, Irena Maniecka-Bryła

The aim of the study is to evaluate the number of years of life lost in inhabitants of Poland due to bladder cancer (BC), identify trends of the mortality and calculate the pace of change which has happened over the period of the first fifteen years of the 21stCentury.

FULL TEXT
Case Report
2017-09-19
10.5173/ceju.2017.1351

Minimally invasive partial cystectomy with bilateral vesico-ureteric junction resection and reimplantation for a large paraganglioma involving urinary bladder trigone

Abinaya Ravichandran-chandra, Vinodh-Kumar-Adithyaa Arthanareeswaran, Hoang-Minh Do, Anja Dietel, Toni Franz, Iason Kyriazis, Evangelos Liatsikos, Joerg Rassler, Lars-Christian Horn, Jens-Uwe Stolzenburg

Paragangliomas are neuroendocrine tumours of extra adrenal origin. Although it occurs rarely in the genitourinary system, urinary bladder is the most common site. Its diagnosis warrants complete surgical excision with lymphadenectomy in case of metastatic disease. The functional status of this tumour makes intraoperative handling challenging. Surgical resection necessitates minimal manipulation of tumour thereby mitigating intraoperative physiological jeopardy. We report the possibility of minimally invasive partial cystectomy with bilateral vesico-ureteric junction resection and re-implantation for non-malignant paraganglioma involving the bladder trigone

FULL TEXT
Original Basic Research And Clinical Articles
2017-09-19
10.5173/ceju.2017.1337

Simultaneous or staged surgery in patients with kidney tumors and concomitant cardiac disease

Uladzimir Andrushchuk, Yury Ostrovsky, Sergey Krasny, Sergey Polyakov, Vladimir Zharkov, Alexander Rolevich, Svetlana Kurganovich, Valery Krutau, Siarhei G. Amelchanka

To evaluate outcomes of simultaneous and staged surgery in patients with kidney tumors and concomitant cardiac disease.

FULL TEXT
Original Basic Research And Clinical Articles
2017-09-18
10.5173/ceju.2017.1379

Comparative study of a new technique using nephroscope and resectoscope sheath and the percutaneous cystolithotripsy for the treatment of bladder calculus

Rupesh Gupta, Sweta Gupta, Ranjit Kumar Das, Supriya Basu, Vishnu Agrawal

Several minimally invasive approaches are available for the treatment of bladder stones, with each having its own advantages and disadvantages. We devised a new technique to overcome few limitations of conventional techniques and compared its efficacy with conventional percutaneous cystolithotripsy (PCCL) technique.

FULL TEXT
Original Basic Research And Clinical Articles
2017-09-18
10.5173/ceju.2017.1255

Perigraft fluid collections after kidney transplantation: Does the type of donor (uncontrolled donation after circulatory death vs. donation after brain death) have a role?

Felix Guerrero-Ramos, Teresa Cavero-Escribano, Alfredo Rodríguez-Antolín, Amado Andrés-Belmonte, Juan Passas-Martínez, Ángel Tejido-Sánchez

Perigraft fluid collection (PFC) is a common complication after kidney transplant. Its etiology is not clear and not all the causes have been identified. The influence of the type of donor has never been evaluated. Our aim was to compare incidence, severity and management of PFC in recipients of grafts from uncontrolled donors after circulatory death (DCD) with normothermic extracorporeal membrane oxygenation (NECMO) versus recipients of grafts from donors after brain death (DBD).

FULL TEXT
Original Basic Research And Clinical Articles
2017-09-06
10.5173/ceju.2017.1431

Anderson-Hynes pyeloplasty in children – long-term outcomes, how long follow up is necessary?

Marcin Polok, Wojciech Apoznański

Pyeloplasty is commonly conducted in children with UPJO. Standard post-operational procedure involves only a short time after the surgery. What is the real number of complications, including the long-term ones? What is the function of the operated kidney?
Aim. The assessment of the effectiveness of the pyeloplasty. The assessment of the suitability of conducting the long-term control after pyeloplasty.

FULL TEXT
Original Basic Research And Clinical Articles
2017-08-28
10.5173/ceju.2016.903

Inhibition of cryoglobulin synthesis as a method of positive influence on spermogram indices (clinical observations)

Borys Gerasun, Roman Kopets, Roman Hrytsko, Oleksandr Gerasun

FULL TEXT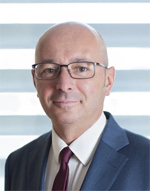 "Central European Journal of Urology" is growing
Dear Friends, Colleagues,
Readers and Editors,
The importance of the "Central European Journal of Urology" is steadily increasing. This is of course,in a large part thanks to you. According to the SCOPUS database ranking of 98 urological journals published and indexed worldwide, our journal is ranked at the 58 th position. This is a very acceptable rank! First place is of course reserved by the "European Urology", but journals ranked near us show that our position is meaningful and the influence of the articles published in our journal is noticeable among the newest trending urological topics. This interesting SCOPUS ranking can be viewed on the following site: https://www.scopus.com/sourceid/19900192570?origin= sbrowse#tabs=1.
Independent of the Web of Science database, the citation index CiteScore prepared by SCOPUS, also contains positive news concerning our journal. In 2016, the CiteScore for the "Central European Journal of Urology" was 0.70. This index rating is calculated based on the amount of citations of articles published in a given journal during the last three years. By following the change in the citation index of the "Central European Journal of Urology", it can be easily seen that the importance of our journal is on the rise. The CiteScore in 2013 was 0.23, and increased to 0.37 and 0.62 in 2014 and 2015, respectively. What is the difference between the CiteScore (SCOPUS) from the Impact Factor (Web of Science)?
Both factors are derived from the amount of citations per published articles. It seems though that the CiteScore is more flexible. It is calculated more often (monthly), not yearly, as is the case for the Impact Factor. The method of calculation and assignment of the CiteScore is clear and available at all times to SCOPUS database users. Please follow how the CiteScore changes this year for the "Central European Journal of Urology"'. This information can be accessed by clicking on the CiteScoreTracker 2017tab. It is now that straight-forward!
By observing the changes occurring in international bibliographic databases, I think that thanks to these tools the SCOPUS database will soon become a very relevant player among the ranking systems and the CiteScore index will be of equal value to that developed by the Web of Science database. Perhaps overtime it will gain even more popularity?

Kindest regards,
Tomasz Drewa
Editor-in-Chief