Peter Petros, Klaus Goeschen, Hiromi Inoue
Published on-line:
Nov 09, 2018
Herney Andrés García-Perdomo, Maria Juliana Chaves, Julio Cesar Osorio, Adalberto Sanchez
Published on-line:
Nov 05, 2018
Leonid Rapoport, Ofer Yossepowitch, Evgeniy Shpot, Dmitry Enikeev, Denis Chinenov, Yaroslav Chernov, Maria Yurova
Published on-line:
Oct 30, 2018
Rubén G. Bengió, Leandro Cristian Arribillaga, Javier Epelde, Sergio Orellana, Ariel Montedoro, Verónica Bengió, Esteban Cordero, Matías Guevara
Published on-line:
Oct 23, 2018
Peter Petros, Burghard Abendstein, Michael Swash
Published on-line:
Oct 19, 2018
Thomas James Johnston, Joyce Baard, Jean de la Rosette, Steeve Doizi, Guido Giusti, Thomas Knoll, Silvia Proietti, Marianne Brehmer, Esteban Emiliani, Daniel Peres-Fentes, Palle Jorn Sloth Osther, Christian Seitz, Naomi Neal, Ben Turney, Mudhar Hasan, Olivier Traxer, Olivier Wiseman
Published on-line:
Oct 02, 2018
Marek Roslan, Michal Borowik, Maciej Przudzik
Published on-line:
Oct 02, 2018
Alaa Moubasher, Heba Sayed, Eman Mosaad, Ahmed Mahmoud, Fawzy Farag, Emad A. Taha
Published on-line:
Sep 27, 2018
Paweł Wieczorek, Marta Bałut-Wieczorek, Milosz Jasinski, Waldemar Szabłoński, Andrzej Antczak
Published on-line:
Sep 24, 2018
Dear Colleagues!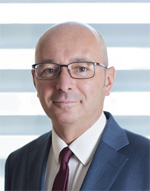 During the 48th Annual Scientific Congress of the Polish Urological Association (PUA), a general meeting of the PUA members was held and the Executive Board was appointed for a further, this time 4-year long cadency for 2018-2022.
The Editor-in-Chief of the Central European Journal of Urology (CEJU) is a role closely tied to and appointed by the PUA Executive Board. The Board has maintained their decision to appoint me as the Editor-in-Chief of CEJU.
I will do my best to fulfill my duties to the best of my abilities as long as the Executive Board of our association will allow me.
Finally, I hope that I can continue to count on the goodwill and support of everyone concerned with the prosperity and development of our journal.
With friendly greetings,
Tomasz Drewa
Central European Journal of Urology (CEJU) is indexed in: PubMed, Emerging Sources Citation Index (Thompson Reuters), Chemical Abstracts CAS, Cambridge Scientific Abstracts (ProQuest), CAB Abstracts, CrossRef, EBSCO, Google Scholar, Index Copernicus (129.18 pts), Global Health Databases, SCOPUS and the Polish Medical Library (GBL), Ministry of Science and Higher Education Index (MNiSW – 14 pts)
eISSN:
2080-4873
ISSN:
2080-4806

Publisher and funding institution
Polish Urological Association