The Editorial Office would like to inform all interested parties that in Central European Journal of Urology an article entitled "Efficacy of holmium laser urethrotomy and intralesional injection of Santosh PGI tetra-inject (Triamcinolone, Mitomycin C, Hyaluronidase and N-acetyl cysteine) on the outcome of urethral strictures" [Kumar S, Kishore L, Sharma AP, Garg N, Singh SK. Cent European J Urol. 2015; 68: 462-465] was published which is very similar to the article entitled "Efficacy of Optical Internal Urethrotomy and Intralesional Injection of Vatsala-Santosh PGI Tri-Inject (Triamcinolone, Mitomycin C, and Hyaluronidase) in the Treatment of Anterior Urethral Stricture" published in Advances in Urology [Kumar S, Garg N, Singh SK, Mandal AK. Adv Urol. 2014; 2014: 192710. doi: 10.1155/2014/192710. Epub 2014 Oct 1].
The authors of these articles did not inform the CEJU Editorial Office about the prior publication of an article with a similar subject matter nor did they refer to it in their References section.
The Editorial Office regrets the existing situation.
Attention!
A new system has been introduced for submitting new articles starting from 11 July 2019.
In cases of articles submitted to the previous system and requiring further corrections after review, the corrected versions should be sent to augustyn@ptu.net.pl.
We apologize for the inconvenience.
Dear readers and colleagues!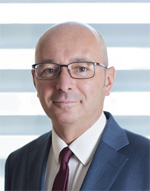 Starting this year, the Central European Journal of Urology has the chance to truly become a journal representing the Central European community of urologists. We are delighted to announce that we have tightened our cooperation with an organization of Central European urologists – the Central European Urological Society.

The Central European Urological Society will be represented in CEJU by Prof. Shahrokh F. Shariat, M.D., head of the Urology Clinic of the University of Vienna. I hope that this cooperation will significantly broaden the impact of our journal on the development of urology in Central Europe, which very much needs a journal that will promote a strong representation of urologists in the region. I think that this direction of cooperation will significantly affect the shape of the editorial board and improve the quality of articles published in the CEJU.

I have no doubt that there presentation Prof. Shariat brings and the urological society he represents will attract new people willing to contribute to the Central European Journal of Urology as editors and authors or reviewers. As evidence of the commencement of close cooperation with the Central European Urological Society, the Polish Urological Association, represented by its President Prof. Piotr Chłosta, decided that this year CEJU would serve as a scientific source in the form of a book of abstracts for the Central European meeting in Vienna. I am sure that the fruits of this cooperation will cover many areas and will positively influence our journal's opinion among urologists in Europe and in the world.
Tomasz Drewa
Editor-in-Chief, Central European Journal of Urology
Vice-president of the Polish Urological Association
Publisher and funding institution
Polish Urological Association