2020, Vol. 0, No. 0
Diego M. Carrion, Estefanía Linares-Espinós, Emilio Ríos González, Alfredo Aguilera Bazán, Mario Alvarez-Maestro, Luis Martínez-Piñeiro
Published on-line:
May 20, 2020
Mutlu Ates, Sahin Kilic , Cagatay Ozsoy, Kayhan Yilmaz, Mahmut Taha Olcucu
Published on-line:
May 14, 2020
Rubén G. Bengió, Leandro Arribillaga, Verónica Bengió, Javier Epelde, Esteban Cordero, Guillermo Oulton , Santiago Carrara, Esteban Arismendi
Published on-line:
May 09, 2020
Mher Beglaryan, Yervand Kirakosyan, Davit Martirosyan, Mher Mkhitaryan, Varujan Shahsuvaryan, Sergey Fanarjyan, Ashot Tsaturyan
Published on-line:
May 09, 2020
Vladimir Vorobev, Vladimir Beloborodov, Igor Seminskiy, Alexey Kalyagin, Bator Sharakshinov, Sergei Popov, Olga Baklanova
Published on-line:
Apr 30, 2020
Carlos Calvo de la Barra, Pedro Gerken González, Matias Álvarez Baeza, Oslando Padilla Pérez, Javier Domínguez Cruzat
Published on-line:
Apr 24, 2020
Dmitry Enikeev, Mark Taratkin, Alexander Amosov, Juan Gómez Rivas, Alexei Podoinitsin, Natalya Potoldykova, Marina Karageziyan, Petr Glybochko, Eric Barret
Published on-line:
Apr 08, 2020
Guglielmo Mantica, Juan Gómez Rivas, Diego M. Carrion, Moises E. Rodriguez-Socarras, Francesco Esperto, Giovanni E. Cacciamani, Domenico Veneziano
Published on-line:
Apr 06, 2020
Abdullah Erdem Canda, Arif Ozkan, Emre Arpali, Ersin Koseoglu, Murat Can Kiremit, Yakup Kordan, Burak Kocak, Mevlana Derya Balbay, Tarik Esen
Published on-line:
Apr 04, 2020
Attention!
A new system has been introduced for submitting new articles starting from 11 July 2019.
In cases of articles submitted to the previous system and requiring further corrections after review, the corrected versions should be sent to augustyn@ptu.net.pl.
We apologize for the inconvenience.
Dear readers and colleagues!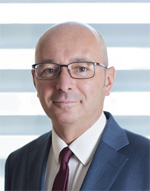 Starting this year, the Central European Journal of Urology has the chance to truly become a journal representing the Central European community of urologists. We are delighted to announce that we have tightened our cooperation with an organization of Central European urologists – the Central European Urological Society.

The Central European Urological Society will be represented in CEJU by Prof. Shahrokh F. Shariat, M.D., head of the Urology Clinic of the University of Vienna. I hope that this cooperation will significantly broaden the impact of our journal on the development of urology in Central Europe, which very much needs a journal that will promote a strong representation of urologists in the region. I think that this direction of cooperation will significantly affect the shape of the editorial board and improve the quality of articles published in the CEJU.

I have no doubt that there presentation Prof. Shariat brings and the urological society he represents will attract new people willing to contribute to the Central European Journal of Urology as editors and authors or reviewers. As evidence of the commencement of close cooperation with the Central European Urological Society, the Polish Urological Association, represented by its President Prof. Piotr Chłosta, decided that this year CEJU would serve as a scientific source in the form of a book of abstracts for the Central European meeting in Vienna. I am sure that the fruits of this cooperation will cover many areas and will positively influence our journal's opinion among urologists in Europe and in the world.
Tomasz Drewa
Editor-in-Chief, Central European Journal of Urology
Vice-president of the Polish Urological Association
Central European Journal of Urology (CEJU) is indexed in: PubMed, Emerging Sources Citation Index (Thompson Reuters), Chemical Abstracts CAS, Cambridge Scientific Abstracts (ProQuest), CAB Abstracts, CrossRef, EBSCO, Google Scholar, Index Copernicus (133.85 pts), Global Health Databases, SCOPUS and the Polish Medical Library (GBL), Ministry of Science and Higher Education Index (MNiSW – 14 pts)
eISSN:
2080-4873
ISSN:
2080-4806

Publisher and funding institution
Polish Urological Association